Masa Fukuda founded the US-based children's choir called One Voice in 2001. Masa had just finished composing a song called "It Just Takes Love" co-written by Jeannine Lasky for the 2002 winter Olympics in Utah, Salt Lake City.
He asked students, some of which were "Children Of Light" involved in the opening ceremony, to help create a commemorative CD for the Olympics and offered to train them. With the help of Gael Shults, Masa enlisted 1,621 students from 69 local elementary schools in the Nebo School District, Alpine school district, and Provo School District.
Once the commemorative CD project was complete, the 25 students wanted to keep singing together and formed a non-profit choir, headed by director Masa Fukuda. To date, the group has 140 members aged 4 through to 17 years old and they perform between 50 to 70 times per year.
Meeting once per week for practices, they have a large range of music which they perform including gospel, classic, patriotic, Broadway Musical all the way to POP music covers. Masa in an interview said, "We go anywhere from baroque and classical to R&B and hip-hop. We're media-oriented."
The choir won the John Lennon International Music Award in 2003 with their performance of "Innocence Of Youth" and in 2014 they received attention nationally for a Disney Song they covered "Let It Go which received over 1 million views in the first day of release. The group was also competing in America's Got Talent in 2014, where they reached the quarter-finals.
Masa Fukuda's started out writing a song for the Olympics and ended up doing so much more. He has created a nurturing and tolerant environment for children to commit and sing uplifting songs together.
In 2014 the group produced a viral video of the Disney song "Let It Go". Starring Alex Boyé and Lexi Walker who was 11 years old at the time. The video amassed over 60 million views by July 1015 and received an award from YouTube for the "Best Pop Cover" for 2014.
The group was invited to audition for America's Got Talent in 2014. They reached the quarterfinals of the show and we eliminated in on August 19, 2014, in New York City. Masa Fukuda said, "You don't see us in competitions … usually" explaining they were made an offer to be on the show including all travel and expenses paid. Below is a video fo the audition they did in 2014 for America's Got Talent.
Masa Fukuda is the director of One Voice and does all the arrangements. He is also the songwriter for the group. Raised in Japan, he was taught choirs are all about "technique and preciseness" and believes it is very important all the children enjoy being in the choir.
If you would like to see more from One Voice, subscribe to their YouTube channel or follow them on Facebook.
Click Here To Check Out Another Incredible Children's Choir You Don't Want To Miss!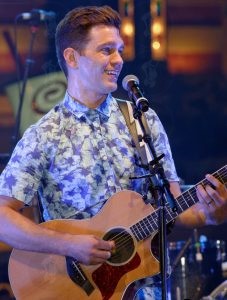 Artist Andy Grammer with another of his brilliant songs "Don't give up on me!" Again with the help of 65 ten-year-olds from Public School 22 in Staten Island, NY. USA. Gregg Greenberg Gregg Breinberg (PS22 Chorus Director) does a magnificent job every year with these kids.