Anders Flanderz is a Swedish one-man band who travels around the world playing his very unique style of cover songs. Seen entertaining people on the streets busking in different hotspot areas, he is literally a walking talking music man.
So much creativity has gone into his set up it is unreal. It's hard to tell how many instruments Anders has strapped to him at any given time, but it definitely includes a keyboard, kick drum which is made from a water dispenser? cymbals/hi-hat, and an accordion.
There are some special one-man-bands out there but Anders is doing things differently. The retro one-man-band style of strapping instruments to his person and mixing that with modern music technology such as an electronic keyboard and a loudspeaker (and probably more things I missed) makes him a completely unique act.
Anders Flanderz is definitely a machine, you could say he is a human jukebox. He plays a large range of cover songs and always keeps the energy high throughout his performances. His personality comes through during his performances too, making his audience laugh just before being mesmerised by his performance.
The range of sound Andres covers is also quite impressive, he actually sounds like a full band and sometimes a chipmunk. His set up is quite a sight and the best way to explain it is to show you a photo: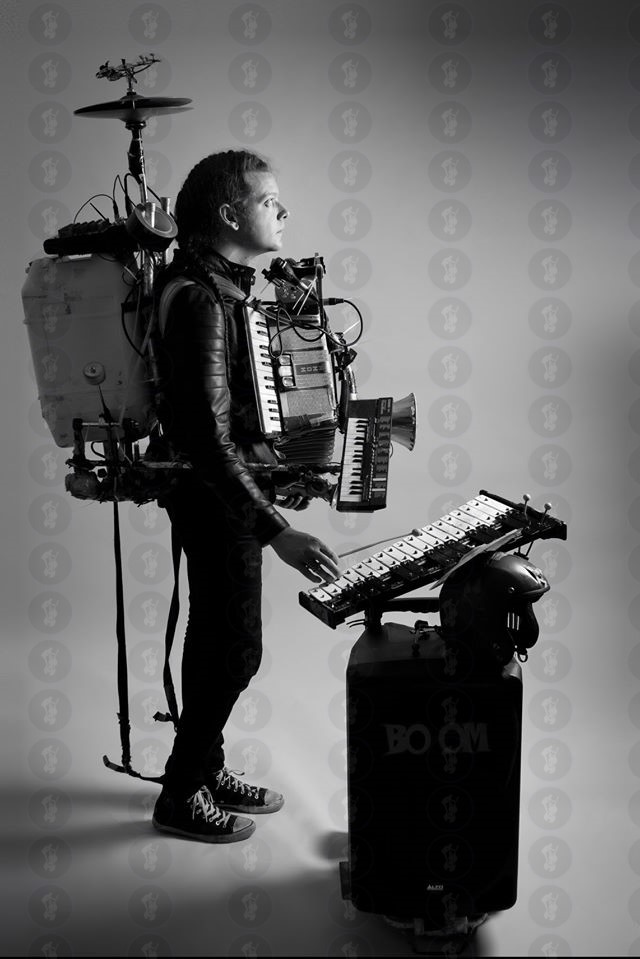 If you're ready to get in the Christmas mood yet, this video will get your festive vibes going strong! This is Anders doing his thing whilst riding on the back of a mini Santa!
His incredibly unique set up allows him to walk around creating the most entertaining full sounding one-man-band show. The energy in his performance has captured the attention of millions around the world with some of his videos being watched by tens of millions on YouTube and Facebook.
Below Anders plays "The Final Countdown" theme song in his own unique style.
Anders has appeared on TV including this surprise turn up during "DREAMLEAGUE STHLM MAJOR 2019!". Upon his arrival, one of the guests said "Is this a man or a machine" and "Is he a toilet?". His unique style and passionate performances have caught the eye of many TV producers. I'm sure we will see Anders showing up on other channels in the near future too. Video below:
Anders also appeared Live on the BBC during COMIC RELIEF does UNIVERSITY CHALLENGE. He performed songs as part of the quiz show. The contestants were required to guess the song he was playing from just the music (no lyrics). Due to the accuracy of his full band recreation, the round was over pretty quickly. However, it was still very entertaining for the contestants and the audience.
You can find many videos of Anders Flanderz on Youtube and Facebook. He has gone viral on many occasions and every one of his videos is highly entertaining.
If you would like to see more of this special talent you can follow his Facebook page. You also visit his website or subscribe to his YouTube channel.