RIP Meat Loaf
The brilliant lyrics, incredible showmanship and unbelievable vocal range were just three of the gifts Meat Loaf brought to the music industry. With a career spanning over 6 decades, it's very sad to report that Michael Lee Aday (Meat Loaf) passed away with his wife by his side – currently the cause is unknown.
The official Meat Loaf social media account wrote this statement below: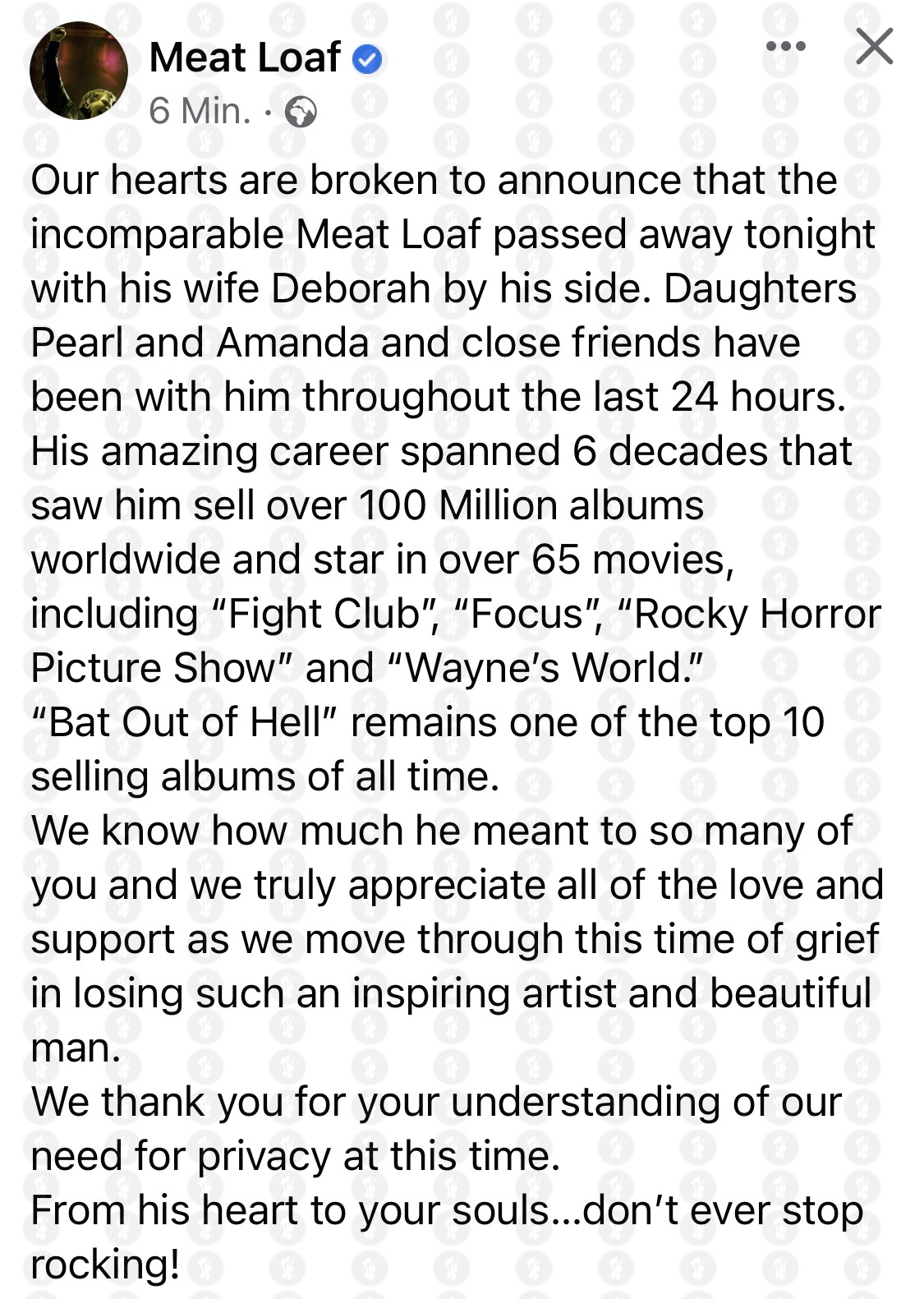 Let's take a look at his wonderful career
His first album "Bat Out Of Hell" became one of the best selling albums of all time. Born and raised in Texas, his mother, Wilma Artie, was a school teacher and also part of the "Vo-di-o-do Girls gospel quartet" and his father, Orvis Wesley Aday, was a police officer.
Meat Loaf was very open about his father being aggressive with him as a child saying, "He used to beat me up as a kid, threw me through a glass window and through a door".
In high school he was larger than the other boys in his age group, making him perfect for the football team. This led to interest from the opposite sex – but his first love only brought drama.
When his mother died he managed to escape his father's bullying behaviours and went to Los Angeles and started auditioning for parts in musicals. With his wonderful showmanship and 3 octave vocal range, it wasn't long before he was performing on Broadway and on screen.
This led to a meeting with composer James Richard Steinman, better known as Jim Steinman, which was the turning point for Meat Loaf's career.
His performance on the BBC's programme "The Old Grey Whistle Test" was a launch pad for the album Bat Out Of Hell to hit the number one spot in the UK. From there fame and fortune beckoned for Meat Loaf.
Unfortunately the pressures of touring caught up him. His voice failed him, leading to a nervous breakdown ending the tour. Arguments with Jim Steinman started to become frequent as the producer believed he wasn't getting a fair share of the limelight.
This was the start of the fall for the singer who suffered from depression as court cases came against him for various reasons. His home was repossessed and he ended up playing small bars and clubs again.
However, in 1990 him and Steinman solved their problems and started creating music again. The magic still worked as 16 years on from releasing "Bat Out Of Hell" the singer was back in the limelight with the hit song "I Would Do Anything For Love". He also appeared in the film "Fight Club" as he made a name for himself as an actor.
"Bat Out Of Hell" is one of the most successful rock albums ever made and will forever be Meat Loaf's legacy. As another great leaves the stage for the last time, he will be missed by many – but at least we still have his exceptional music. RIP Meat Loaf.