Father And Son Sing "Don't Stop Me Now"
A video of a father and son singing team has recently emerged on Facebook and Instagram. After being shared thousands of times, their video performance has now reached hundreds of thousands of people!
Doug and Brayden Morgan are the father and son singing duo. Brayden is just 8 years old showcasing his incredible natural singing talents. The USA-based family performed a cover of 'Don't Stop Me Now' by rock 'n' roll legends Queen as part of an online open mic night hosted by "Zzak G. Applaud Our Kids Foundation Inc.". Never an easy song to sing, but these two did it justice with smiles on their faces all the way through!
Doug is married to Maggie Morgan, Brayden's mother. The family lives in Brick Township, a township in Ocean County, New Jersey. Due to the coronavirus, they found themselves with lots of time on their hand after being asked to stay at home. They used this time wisely, practicing their favourite songs together and having fun entering online open mic competitions. Little did they know just how many people were going to be watching their performance.
The video was shot by Maggie, who decided to upload it to social media to spread some happiness to her friends and family. After she uploaded the cover song, it quickly exploded being sent out across the world. She captioned the upload with, "A video of my boys that I will cherish forever. So special. And yes, my kid's favorite band has and probably always will be, Queen."
Recommended For You: Mother And Son Astound Everyone With A Powerful Duet Earning 2 Million Views.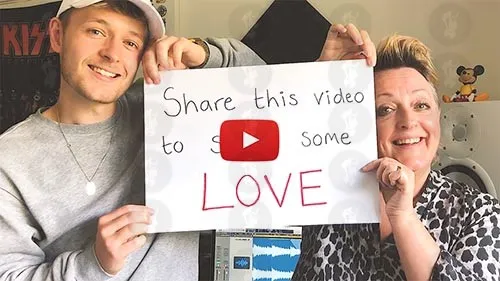 Doug and Brayden said after reading the comments on the video, they were so happy to see their video bring happiness to so many people, especially in these difficult times.
Brayden is a singer and an actor who has an Instagram account you can follow to see more of his awesome singing videos.