This remarkable musician is Cornel Hrisca-Munn from Romania. He was born without lower arms and with a deformed leg, but his musical abilities are a gift no disability could stop.
Very shortly after Cornel was born, doctors took him from his parents and placed him into an orphanage. The doctors were convinced that he wouldn't survive very long due to his disabilities. Doreen and Ken Munn, two aid workers, took Cornel under their wing and rejected any notion that he couldn't survive. They took him back to Worcestershire, England, where a local BUPA hospital provided treatment for Cornel which ultimately saved his life.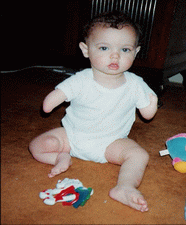 After his treatment, which involved amputating Cornel's deformed leg, Doreen and Ken officially adopted Cornel in 1994 with full consent from his birth parents in Romania. Although Cornel's first few years on this planet were anything but conventional, he now has two sets of parents which he loves very much.
Despite being what many of us would class as severely disabled, Cornel is anything but that when it comes to music. He can play instruments to a much higher standard than many people who have 10 fingers and lower arms.
When Cornel was 4 years old he was taken to a clinic to try out using a prosthetic arm. He found the attachment to be very uncomfortable and made the mature decision to live life without that form of aid – he has adapted incredibly well without it.
When he was 12 years old, Cornell was thriving at mainstream school. He had learned to use stationary as well as any of his classmates, writing just as fast as the other children. Doreen, his adopted parent, said, "He constantly amazes me, everything he does is done with such enthusiasm and he always gets such great results."
After trying the prothetic arms, Cornel said, "Life would be more difficult with the arms because they were too heavy and I couldn't cope." He continued to say, "I get on fine with every day things without them, I can write, draw, play the drums, anything – so it's not a problem."
Cornell has not let his disabilities stop him from doing anything, in fact, he has embraced them to drive him to do more. During the Iraq war, Cornel found himself inspired by war victim Ali Abbas, an Iraqi man who drew media attention after being severely injured in a night-time aerial missile attack near Baghdad, he lost both his arms in the blast. Cornel, being able to relate to his situation decided to raise money for his cause.
Cornel swam 1,000 meters in 45 minutes, raising a staggering £4,050 for the Limbless Association Ali Fund. If you want to see more from this truly inspirational human being and great musician, subscribe to his YouTube channel or follow him on Facebook.